Most Beautiful Colorado Mountain Venues:
 Today we are going to talk about venues in the Rockies. Specifically, we are going to talk about the best Colorado Mountain venues. These are venues that we love for various reasons and are on top of the list of venues that we would choose for our own weddings. Hopefully, this list will help you find the perfect setting for your big day. Most of our couples choose to have their wedding in the mountains and celebrate their love surrounded by the beauty of the Rockies. And we love mountain weddings too! So we are really excited to share this list with you guys!   
Camp Hale

First up is Camp Hale. The definition of the ideal mountain venue. Its got everything in one place! A lake, an island, a gorgeous reception tent, and spectacular mountain views. What we love the most about Camp Hale is it's incredibly unique ceremony location. Their ceremony space is located on a small island right in the middle of the lake with benches and an arch where couples can say I do. Camp Hale is located 15 miles from Vail and surrounded by 12,000 ft mountains covered in aspen and pine trees. 
The Vibe: Adventurous, Elegant, Breathtaking, Timeless, Luxe lake house 
Website: https://www.camphaleweddings.com/weddings
  Photo Credit: Kind Honey Photography
Devil's Thumb Ranch  
Adventure-loving couples looking for an authentically western experience will love Devil's Thumb Ranch. The ranch is massive and features stunning views of the Rocky Mountains. Our favorite feature is it's multiple ceremony sites. There are so many spaces to choose from. Couples can choose the ceremony space that best fits the specific atmosphere they are envisioning for their wedding day. The resort also has two barns and a pavilion. Couples and their loved ones can also enjoy various outdoor adventures like horseback riding, fly fishing, and hiking at the resort. Devil's Thumb Ranch is located near Winter Park, Colorado. 
The Vibe: Grand, Rustic, Western, Adventurous, Fresh & Natural  
Website: https://www.devilsthumbranch.com/plan-an-event/weddings/  
Photo Credit: https://kellilynnphotography.com/ 
The Woodlands 
The Woodlands is one of our favorite barn venues in the Rocky Mountains. It's a beautiful white barn surrounded by lush green pine trees just 30 mins from Denver. In our opinion, it's the perfect blend of modern and classic. The venue is really versatile and you can truly customize the space to showcase your unique style. Our favorite feature at The Woodlands is the ceremony space overlooking the mountains. We loved working there for a styled shoot last summer and can't wait for our next event at The Woodlands. 
The Vibe: Timeless, Polished, Modern, Fresh  
Website: https://www.woodlandscolorado.com/aboutus
Photo Credit: https://www.nateshepard.com/
Blackstone Rivers Ranch  
This intimate venue is located just 35 minutes from Denver. Blackstone Rivers Ranch offers couples a relaxing riverfront ceremony space and a rustic cabin for dancing. It's the perfect venue for a picturesque Colorado wedding. It also has a great outdoor space for tented weddings and a total of 7 different spaces to choose from. What we love the most about Blackstone Rivers Ranch is its ceremony space next to the Chicago Creek. Couples also love the creek-side cocktail space at Blackstone Rivers Ranch.  
The Vibe: Refined, Rustic Elegance, Idyllic, Earthy, Relaxed  
Website: https://www.blackstoneriversranch.com/  
Photo Credit: https://www.ashleymckenziephotography.com/weddinggallery
Surf Hotel  
The Surf Hotel is the epitome of understated elegance. It has a truly unique style. Perfectly blending European elegance, modern design, and the carefree nature of the mountains. It's definitely one of the most original venues in the Rockies. The hotel is located along the Arkansas River and surrounded by snow-capped mountains. The venue has a giant porch that overlooks the river and several unique spaces for your event. We love Surf Hotel for many reasons but our favorite space is the fabulous courtyard. The courtyard features a fireplace and white cobblestone walls that make events feel intimate and dreamy. It's located approximately two hours from the front range in Buena Vista, Colorado. 
The Vibe: Modern, Upscale Casual, Timeless, European 
Website: https://surfhotel.com/weddings/ 
Photo Credit: https://surfhotel.com/weddings/
Three Peaks Ranch  
At Three Peaks Ranch, you can give your guests a taste of the old west with wide-open spaces and breathtaking views of the mountains. The backdrops offered by Three Peaks Ranch are some of the best in all of Colorado. The venue offers couples two glamping tents, a cabin, and a gathering space in addition to the ceremony site and reception pavilion (coming May 2020). The best thing about the ranch is that guests can enjoy the magnificent views from both indoor and outdoor spaces. This venue is perfect for couples who want flexibility because the open land at the ranch lets couples customize their event space and invite as many guests as they'd like. We simply can't say enough good things about the views and options offered at this venue. Three Peaks Ranch is located in Westcliffe, Colorado which is 1.5 hours from the city of Colorado Springs.   
The Vibe: Refined, Western, Relaxed Luxury, Mountain Cabin   
Website: https://thethreepeaksranch.com/buena-vista-wedding-venue-westcliffe-colorado-venue/ 
Photo Credit: https://thethreepeaksranch.com/crestone-peak-wedding-venue-westcliffe-colorado-gallery/
The Little Nell 
Adventurous couples that want both luxury and jaw-dropping views love The Little Nell. And we love it too! The Wedding Deck at the Little Nell is absolutely stunning and perfectly encapsulates everything we love about mountain top weddings. It sits on top of a mountain cliff that overlooks the Elk Mountain Range and is sure to leave a lasting impression on your guests. It is an unforgettable experience for both couples and guests. To get to the wedding deck, your family and friends take a scenic gondola ride 3 miles above the town of Aspen, which makes the whole experience that much better. We love The Little Nell for its panoramic views of the mountains and unbelievable beauty. 
The Vibe: Elegant, Sophisticated, Modern, Breathtaking  
Website: https://www.thelittlenell.com/occasions/weddings/venues
Photo Credit: https://www.brianleahyphoto.com/
Piney River Ranch  
Perfect for nature lovers, Piney River Ranch is a stunning 40-acre venue filled with lakes and endless forest. It's a 45-minute drive from Vail, Colorado in the White River National Forest. The venue has a picturesque ceremony location right on the dock of Piney Lake with mountains framing the background. The ranch also offers a pavilion and several other locations to choose from for the day's events. Couples love Piney River Ranch for its stunning wedding backdrop and privacy. It's an ideal venue to host a magical reception under the stars or indoors. We love Piney River Ranch's for its natural beauty and think it offers one of the best views in the Rockies.  
The Vibe: Idyllic, Intimate, Rustic, Elegant 
Website: https://www.pineyriverranch.com/weddings-special-events/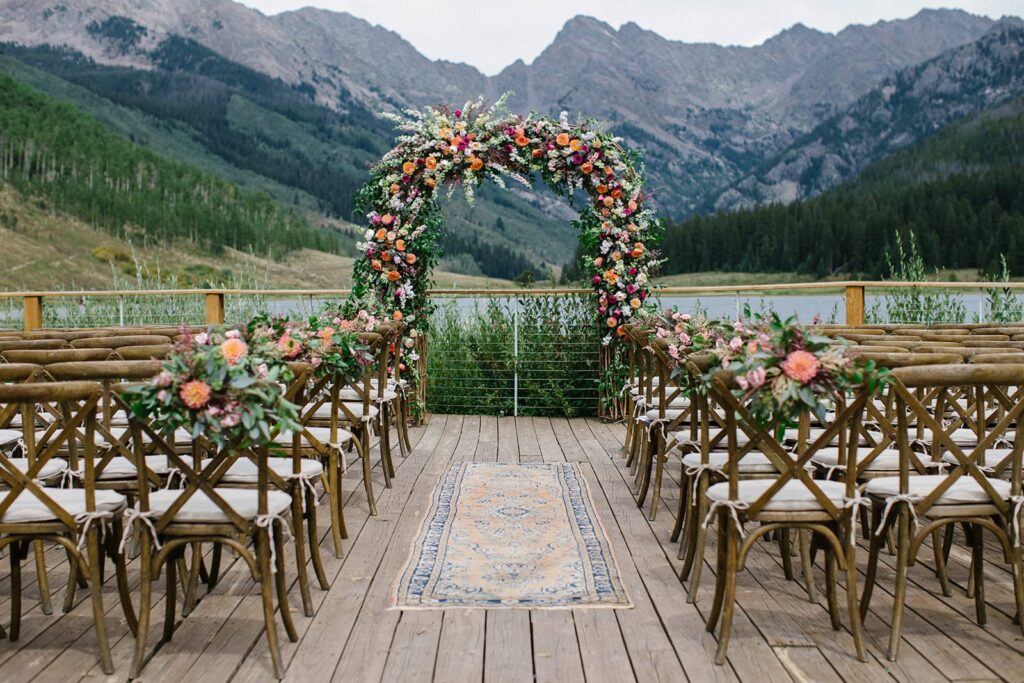 Photo Credit: https://www.pineyriverranch.com/weddings-special-events/
9. The 10th   
The 10th is one of the most iconic places to tie the knot in Colorado. It's Vail's premier mountain-top venue. It's located in the town of Vail, only 2 hours west of Denver. And offers sweeping views of towering fourteeners and lush pine trees in the Vail Valley. We love the 10th because it has the convenience of an in-town location with the feel of a secluded mountain-top.
The Vibe: Breathtaking, Upscale, Mountain Lodge 
Website: https://www.vail.com/explore-the-resort/about-the-resort/groups-and-weddings/weddings.aspx
 Photography: https://www.iconicweddings.com/venue/the-10th/
Who doesn't love a good wedding cocktail?! Your wedding is supposed to be a complete reflection of the two of you, and there are so many ways to do that! One of our favorite ways to incorporate your uniqueness is in the form of a drink. Signature cocktails have...